Professional Upholstery & Furniture Cleaning Services in Green Bay
From time to time, you probably discover a blemish on your beloved furniture and you tackle it utilizing household upholstery cleaner, right? It's quick, it's very easy and the majority of the time, it's pretty efficient to handle unpleasant stains on your couches or chairs.
What happens when you can't remove a hideous spot with your generally trusty furniture cleaner? It might be time to use a little bit more than a spray.  Or will you buy an new furniture?
Save Your Money Green Bay! Your Furniture Still Has Life Left!
At
Advanced Carpet Care
, our effective furniture cleaning procedure develops a cleaner, much healthier environment. But it likewise protects your investment. Don't re-upholstering or purchase brand-new. We get the same outcomes– for less. Do not settle for anything less than professional upholstery and furniture cleansing. Tough dirt requires a powerful clean with an expert touch. Advanced Carpet Care has that formula. From years of experience, we understand that some materials might require a better system. We'll perform an on-site analysis of your furnishings to identify the best and most efficient furniture cleansing approach for your situation.
Clean Furniture Will Keep You Healthy
Upholstery cleaning is additionally shown to improve the air quality in your home. Mold, dust, and other irritants can reside in your upholstery, going undetected to the human eye. Regular, professional furniture cleaning can avoid unnecessary pollutants from spreading via the air as well as into your body. Even when stains are not visible, upholstery carries microorganisms that, if not eliminated, can possibly impact your health and wellness. These microorganisms can trigger illness. With regular upholstery cleaning your quality of life will be better in terms of health.
Green Bay Furniture Cleaning Specialists
We have tools that clean basically every type of upholstery around, consisting of jacquard, velvet and Haitian cotton. Before beginning any kind of upholstery cleaning procedure, our team of specialists examines each furniture piece to develop a customized cleaning plan. When a correct furniture cleaning approach is identified based on the make & material, our experienced professionals eliminate discolorations, bring back color as well as revitalizing your furniture. Green Bay's Advanced Carpet Care also provides deodorizing services.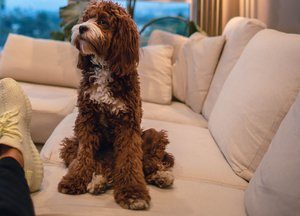 Loved Locally
You can count on our 30+ years of serving Green Bay. We ensure your furniture looks like new again. We guarantee our services!
Deep Clean
Stain Removal
Deodorizing
Disinfecting
Save Your Money
There's no need to replace your furniture we can bring it to life again. Let our experienced and skilled technicians revive your furniture. 
How Often Should I Get My Furniture Cleaned?
If you don't see any stains, does that really mean your furniture is copacetic? Not always. Furniture makers recommend Upholstery & Furnishings Cleaning every 12 to 24 months, depending upon use. Some workplace environments experience consistently high levels of wear and might require more regular furniture upkeep.
Fight Against Dust & Toxins Trapped in Your Furniture!
Your family and visitors come in contact with numerous house and office surfaces during the course of a day. Fortunately, expert upholstery cleaning from Advanced Carpet Care removes dirt, dust and other toxins that gather in the fabric and crevices of your furniture which compromise air quality. At the same time, food particles, oil, and grease from hands are quickly moved to home furnishings. From desk chairs to sofas, your home furnishings get exposed to a high level of dirt and grime. Thankfully, Advanced Carpet Care knows how to combat back.
Furniture Cleaning FAQ
Upholstery cleaning is cleaning the fabric on your furniture. Any chair or couch fabric can be deep cleaned to feel and smell like new again. Upholstery fabric can be delicate and may require professional cleaning techniques.
Steam cleaning machines produce a vapor that deodorizes and sanitizes couches and chairs without any chemicals! The steam is a very high temperature so it dissolves grime and brightens fabrics.
Call Today for a FREE Estimate – 920-434-3400
Same Day Service May Be Available! Call Early & Ask!
My 10 year-old carpets look new!!I have been contacting Gary at Advanced Carpet Care for 10 years, and I can't say how impressed we are with the personal customer service and professional job his team does. They went above and beyond our expectations, did a very thorough job and the prices are great. I will recommend Gary and his team to everyone. Great job!

Great experience cleaning my carpets. Quick and efficient and did a fantastic job cleaning. They were able to remove a couple stains that were stubborn when we tried to remove them ourselves. Will definitely hire them again

We are so pleased with the service that we received from Advanced Carpet Cleaning. Our carpets look amazing and the gentlemen providing the service were very kind and professional. They were able to remove all stains and carefully moved furniture when needed. Their level of customer service was outstanding!

I have been using Gary and the guys at Advanced Carpet Cleaning for over 20 years now and just wanted to say Thanks so much for a fantastic job once again! I had a couple of spills this time that I never thought would come out. Of course, Gary got them out and the carpets look great! Gary and his team are friendly, efficient and always do a wonderful job! I would highly recommend them!

Exceptional !!!I just want to say how happy I am with my carpets. The 2 gentleman that came to my home were very professional and went above and beyond my expectations. They carefully moved my furniture and cleaned under everything. They were done in a timely manner and my carpets look fantastic! The guys at Advanced Carpet Care are true professionals!

A Google User .

6/26/2015

I can't recommend Advanced Carpet Care enough. Their work is excellent and the prices are great too. They came with 2 workers, which really speeds things up. They also helped move all my furniture out of the way so they could clean as much carpet as possible. I typically see carpet cleaners just go around obstacles, but these guys actually move stuff so they can be very thorough. After they left, the carpet looked like new and smelled fresh. We've been putting off a carpet cleaning because of the chemicals, but these guys can use non-toxic solutions and still leave you with really clean carpet. If you need a little more cleaning power, they can use a mild detergent that is still very earth-friendly. Lastly, they are a local business, and I prefer giving my money to the smaller, service-minded businesses over a huge corporation.